ASSA ABLOY enters a partnership to expand its Connectivity Ecosystem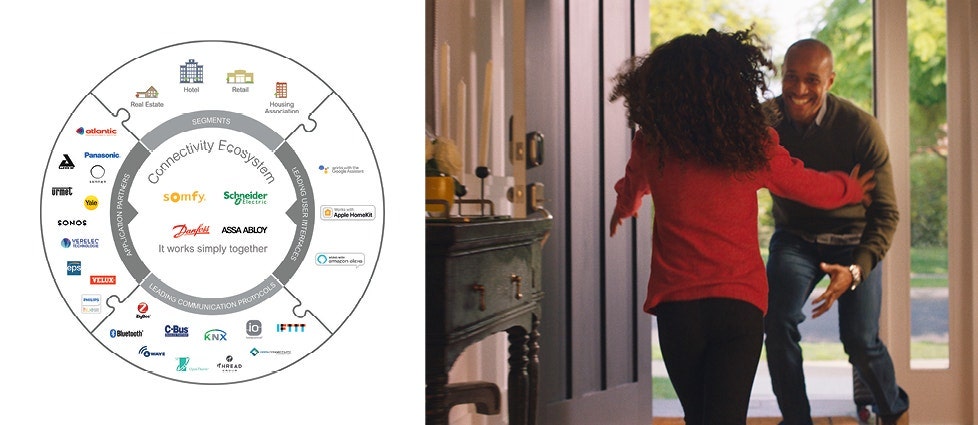 We joined forces with Schneider Electric, Somfy and Danfoss to provide new solutions for the modern home in an increasingly digital world.
The Connectivity Ecosystem is a partnership between Schneider Electric, Somfy, Danfossand now the ASSA ABLOY group, which we at Yale, are apart of. As the leading residential brand in ASSA ABLOY this partnership will give us an opportunity to enhance our products and continue to enable safe, secure and convenient access to homes all around the world.
With a combined vision of offering simple, safe and seamless solutions to homes across the globe, the partnership aims to deliver a superior value proposition to homeowners, combining expertise in comprehensive solutions to bring connectivity to the next level in this increasingly digital age.
For occupants, property developers and managers, this means that having an even smarter home ecosystem that combines smart access with features like energy saving, heating and blind management has become a reality.
Thanks to interoperability of products, it will be entirely possible for a Yale Smart Lock to work with other solutions and create different scenarios which will simplify lives of consumers, while offering them a seamless experience.
As partners in the Connectivity Ecosystem, we are putting our expertise and data at the service of solutions to help consumers feel safer and more comfortable at home. We are also addressing specific touchpoints like door handles, access code panels and door entry systems, which with the newest Yale Smart Locks a completely touch free solution is possible. Together we are focused on how to evolve antimicrobial solutions (such as using bacteria killing materials on switches), hands-free solutions (e.g. motorized shutters, blinds and doors), smarter systems to control access (e.g. entrance solutions providing counting and real-time control of temperature) and air quality systems via automation of windows, among others.
Click here to learn more about the Connectivity Ecosystem vision.