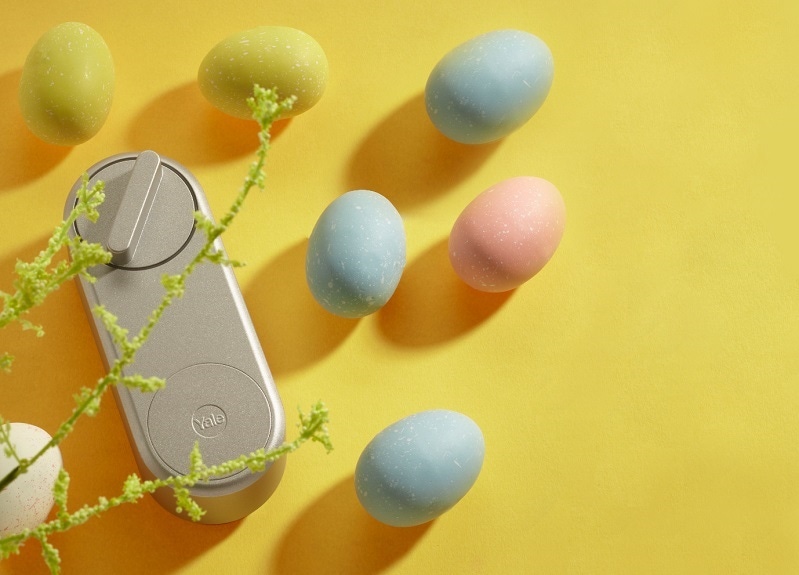 Make your home Easter-ready with Yale
This Easter will be the first in a while where we can start preparing for larger family groups to get together. After a couple of years spent mostly at home, why not impress your guests with some smart home tech?
Now is the perfect time to undertake some DIY and invest in smart tech gadgets that will add convenience and security to your Easter experience. Planning to travel during the warmer months ahead? The smart products from Yale will put you in complete control of your home security while you're away. Below are a few examples of how Yale products can contribute to your Easter experience and secure your home:
Impress your guests
TheLinus® Smart Lock will help to enhance your time at home over the Easter break. Impress guests as soon as they reach the door for Easter dinner by greeting them with a warm welcome. The Linus® Smart Lock integration with Philips Hue will switch on your smart lighting as soon as the door is opened. Thanks to integrations with leading voice assistants like Alexa, HomeKit, and Google Assistant, you can simply open the door for guests via voice commands from your kitchen. Or you can have your guests let themselves in using virtual keys or a code with the Smart Keypad, freeing you up to finish with all the important preparations of the day.
Get creative!
Are you a parent looking to enhance the annual chocolate egg hunt for the kids? Explore our range of indoor and outdoor Wi-Fi cameras to safely watch your kids as they make their way through your home and garden hunting for their prizes. Helping you to keep an eye on them while also giving them the freedom to search anywhere within your home.
And for an added level of difficulty to entertain older children, you can leave them handwritten clues that will help them to retrieve their treats from boxes locked using Yale padlocks. There's no end to the level of fun and creativity that can be brought to the Easter celebrations with the help of Yale.
Travel with peace of mind
Ensure your home is protected while you travel with the Sync Smart Home Alarm. Easy to install and fully controllable with the Yale Home app, you can add up to 40 accessories and integrate with our range of indoor and outdoor Wi-Fi cameras, that can be programmed to watch specific areas and items in your home and garden – such as driveways, expensive electronics, or outdoor buildings. Creating a home security system to suit every need, all with no monthly fees. The Sync Smart Home Alarm works with Philips Hue smart lighting to create the ultimate security deterrent, startling intruders with red flashing lights when the alarm is triggered and notifying neighbours of any suspicious activity. You will also receive alerts and real-time notifications if the alarm is triggered. Giving you peace of mind to fully enjoy your travels knowing your home is safe.
What's more, travel knowing all your expensive electronics, jewellery, and important documents and memories are secure and protected from break-ins with the help of the Yale Safe range. Once you return home from your travels, it can also store any passports or important travel documents, keeping them safe and ready for whatever adventure you have planned next.
Whatever your plans might be this Easter and beyond, make sure to give your home the care it deserves by investing in Yale smart home security devices to ensure that it is ready for guests, travel and anything else that life might throw at it! To browse our full range of products, visit our website.