Upgrade your locks Reports of a rise in lock snapping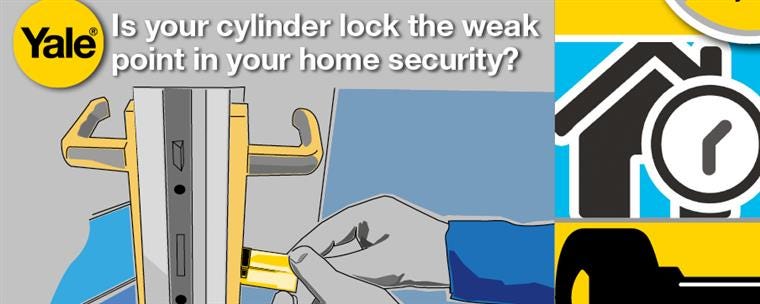 With recent reports in a rise of lock snapping activity in Erdington, homeowners have been urged to check their levels of security.
The Royal Sutton Coldfield Observer has recently reported that lock snapping crime is increasing in the town of Erdington. Lock snapping is a crime where thieves use tools like hammers and screwdrivers to snap the locks and, worryingly, it can take just seconds to gain access to your home.
This technique does not require experience or skill, merely brute force. CASAC's CEO Neil break into a home in seven seconds on BBC's Watchdog, showing just how important it is to check your front door security.
Replacing the lock cylinder is an effective and easy way of making your home secure without having to change the entire lock or door. If you have an external PVCu or composite door, you can upgrade the euro profile cylinder to Yale's new AS Platinum Series lock, then you can be assured that your home has the very latest security protection.
Whereas previously Yale AS Series cylinders were approved by Sold Secure SS312 Diamond Standard, we have moved away from this standard and focused all our development activities on the latest British Kitemark standard TS007. Homeowners throughout the UK recognize the Kitemark logo as a symbol of product quality and performance.
Yale KM, AS and AS Platinum Series cylinders are all approved to TS007.If you house is under attack, our Yale AS Platinum cylinder has several methods of protection. There is a sacrificial element of the lock which will snap off if someone tries to snap your lock. When this comes away, it still leaves the overall mechanism in tact which allows the lock to still function with a key in most cases. Similarly, it has a hardened reinforced bar designed not to snap, but to flex in a way that will defeat the vast majority of intruders.
If you're worried about the state of your security, consider changing your cylinder and upgrading your security. It only takes a minute to change your euro profile cylinder!
For more information, please check out our AS Platinum Cylinders page.