Doctor Who's Tardis is Voted the Nations Favourite Home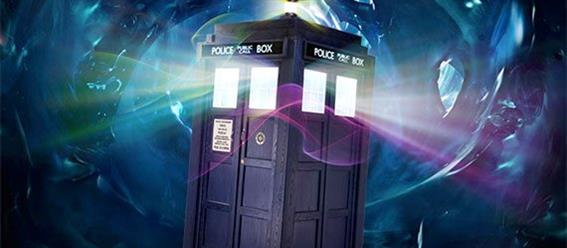 Estate agents might describe the property as 'compact but deceptively roomy inside, with good use made of available space'.
A new study of 2,000 adults shows the Doctor Who TARDIS is the nation's favourite television "home" – despite its unusual external appearance and no real floorplan.
The quirky features, the fact it has been 'extended by the previous owner' and the diversity of the layout also appeal to homeowners.
Downton Abbey's Highclere Castle – a large country house set on 5,000 acres of land - takes second place as TV's most desirable living quarters.
While third place goes to the white mansion Southfork Ranch, surrounded by swimming pools and barns, which featured in the eighties drama Dallas.
However in reality, British adults claim their home most resembles Victor Meldrew's house from classic sitcom in One Foot in the Grave.
Nigel Fisher, Managing Director for home security specialist Yale, who conducted the research said: "We were certainly surprised to see Doctor Who's TARDIS at number one in the poll, as it's not the most conventional of homes.
"However, more and more people want their home to stand apart from others, to be unique and individual – and the TARDIS is certainly that!
"Less surprising are the entries which comes second and third in the study – as I think all of us harbour visions of living in grandeur and luxury, but wherever you call home it's important to feel comfortable, safe and secure."
The study shows Rachel and Monica's apartment in Friends, which was a central location for much of the comedy series, is fourth most popular.
While Chatsworth house in Pride & Prejudice comes into fifth place, closely followed by Carrie Bradshaw's chic New York apartment on the Upper East Side in Sex and the City.
Del Boy's Peckham flat in Only Fools and Horses – which was recreated for people to rent at 1981 prices to mark the anniversary of the series – is seventh.
One of the most famous addresses in the list – 221B Baker Street, London – home to famous consulting detective Sherlock Holmes, takes eighth place.
While Frasier Crane's apartment from comedy Frasier, and Tom and Barbara's simple home in The Good Life complete the top 10.
But when it comes to the TV homes our own actually resemble, Ken Barlow's house in Coronation Street is more like it.
Researchers found 15 per cent of adults have been inspired by television programmes when decorating their house and almost one in 10 have ambitions to model aspect of their homes on a property from a particular TV show.
In fact, a fifth of Brits are such fans of popular TV shows they have been to visit homes which feature in those programmes.
The study also highlights the influence television has when it comes to home security, with a quarter of those polled saying a particular show or film has made them think they need to improve the security of where they live.
Shows like Crimewatch, Panic Room and Scream have all heightened awareness about home security – and as such 57 per cent have thought about getting CCTV, while 55 per cent want to invest in better locks.
A good security alarm, a safe and smart locks are other serious considerations for homeowners wanting to protect their families and possessions.
Nigel Fisher for Yale continues : "They say 'an Englishman's home is his castle', but in the UK it is estimated that a home burglary happens every 40 seconds, with thefts surging by 38% following the clocks going back in October. This is mainly down to opportunistic burglars taking advantage of the evenings becoming darker, and clearly highlights the importance of keeping your home protected.
With this in mind, October will mark the start of National Home Security Month, a nationwide initiative sponsored by Yale, designed to raise awareness of around the importance of security – no matter where you call home.
Throughout October, National Home Security Month will be offering up top tips and advice for keeping your family, home and belongings safe during the dark nights. Simply search for National Home Security Month on Facebook and Twitter or visit the website www.homesecuritymonth.com."
Yale offers a comprehensive range of security solutions to help keep you and your family safe and secure. As well as the more 'traditional' security products, such as high security door locks and padlocks, Yale now offers a number of convenient and innovative smart security solutions.
The Yale Smart Living range includes smart locks, alarms, CCTV, and home view cameras, taking the hassle out of home security by allowing you to remotely keep an eye on your property from anywhere, at anytime.
TOP 20 FAVOURITE FICTIONAL HOMES
1. The TARDIS (Doctor Who)
2. Highclere Castle (Downton Abbey)
3. Southfork Ranch (Dallas)
4. Rachel and Monica's apartment (Friends)
5. Chatsworth House (Pride & Prejudice)
6. Carries Bradshaw's apartment (Sex in the City)
7. Del Boy's flat (Only Fools and Horses)
8. 221B Baker Street (Sherlock)
9. Frasier's penthouse (Frasier)
10.  The Good's home (The Good Life)
11.  Tracey Island (Thunderbirds)
12.  The Banks family mansion (The Fresh Prince of Bel Air)
13.  Mrs Brown's home (Mrs Brown's Boys)
14.  Father Ted's home on Craggy Island (Father Ted)
15.  Red Dwarf (Red Dwarf)
16.  The Addams family mansion (The Addams Family)
17.  Flintstone House (The Flintstones)
18.  Winterfell Castle (Game of Thrones)
19.  The Royles' home (The Royle Family)
20.  Evergreen Terrace (The Simpsons)