Meet the 'Shed of the Year' 2016 winner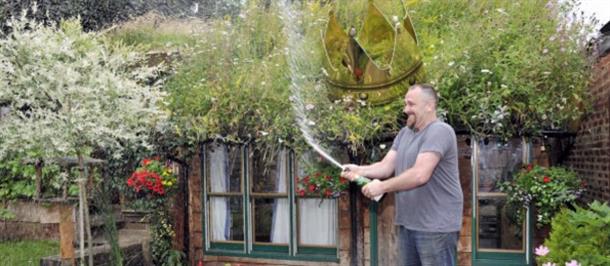 It's that time of the year again when self-professed 'sheddies' dust off their DIY tools and battle it out for the top honour of the Shed of the Year. But unfortunately there can only be one winner, and last week the champion of the prestigious competition was announced on Channel 4's Amazing Spaces: Shed of the year.
Kevin Herbert, the overall winner from Berkshire, won a huge gold crown, a winner's plaque and a cheque for £1,000 from competition sponsors Cuprinol having fought off stiff competition from nearly 3,000 entrants.
Named the West Wing, the family-friendly shed was built over eight years and has three separate sections including a loft which has a sleeping area, a large workshop space downstairs and even a secret bookcase that reveals a hidden room for the kids to play in, complete with a TV, DVD's and Xbox.
The eco-friendly shed is made from 90% recycled materials, including 400 milk cartons in the roof and two and a half tonnes of soil and turf.
The contest saw a host of diverse entries covering everything from Star Wars to real-life crocodiles, gothic features to Viking hideouts, 360-degree rotating floors to nuclear bunkers.
Speaking of his shed, Kevin said: "It is just such a great space for us as a family. It is more like another room of the house, really.
"The main reason behind it was to give me space so I can rest without being disturbed. I got carried away with it and ended up also putting a bit on the side for the kids." A thatcher by trade, Kevin continued that his shed had been inspired by his childhood days of building tree houses and working on it helped him recover from ill heath.
Andrew Wilcox, founder of the competition, said: "Picking the winner is always a tough decision. After we narrowed down the sheds to the last few standing, the final decision had a lot of discussion, but there was a clear winner when it came to choosing Kevin's shed.
"I absolutely love West Wing, not only for its quirkiness in terms of its design and use, but also because of the determination that Kevin had to get it built. I hope it inspires other sheddies around the UK to build their own amazing spaces in time for Cuprinol's Shed of the Year 2017."
Check out the full list of category winners and entrants over at the Cuprinol website.
To find out how you can get involved and enter next year's competition, please click here.