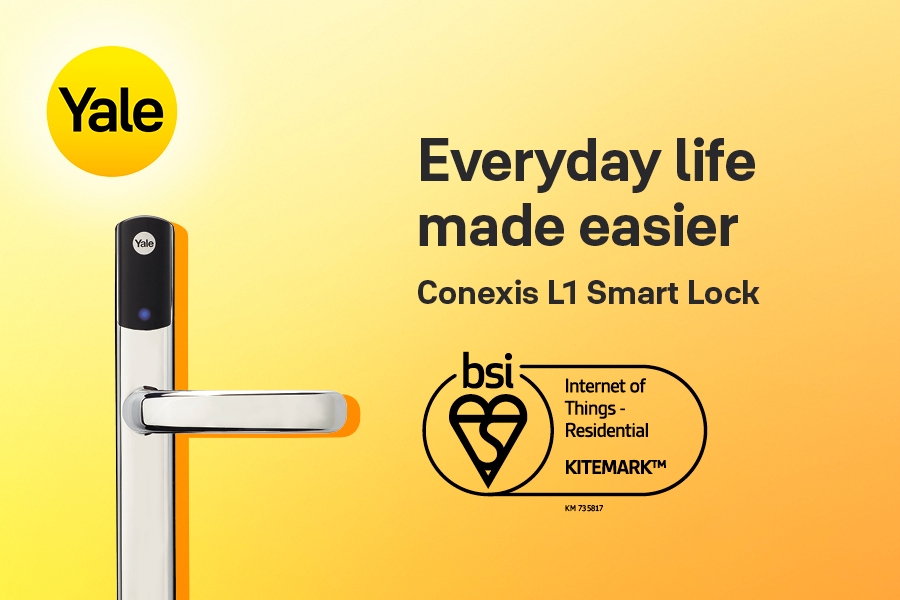 As our lives are getting busier, we're all wanting a little more convenience - anything which will help make our day to day lives that little bit easier.
As technology develops, it's starting to play a huge part in our daily routines. From smart TV's, speakers and alarms to smart showers, vacuums and lights, there's a huge array of smart products to choose from. All of which are designed to help improve and simplify our daily activities, making sure you're in control of your home.
Keyless entry was once a thing of the future, however, that's no longer the case, with smart door locks becoming a popular choice for many homeowners.
There's no longer the need to search in your bag or pockets or turn the house upside down looking for your keys. Smart door locks allow you to unlock and lock your front door simply using your smartphone, keypad or fob. A simple tap of the app, or swipe of the fob and you can unlock or lock your front door.
Here our team of experts will guide you through three benefits of smart door locks and how you can find the perfect one for your home and lifestyle.
1. Simple to Install
Door locks might sound complicated, but they're very intuitive and straightforward to install. All Yale's smart door locks have been designed to be DIY friendly, so you are able to fit and connect the lock yourself.
Once you know what type of lock will fit your door, then you can work out the best lock for you.
For example, our Conexis L1 is compatible with most UK 'lift to lock' multipoint locking systems – a popular locking system for UK doors. The Conexis simply replaces your existing handles, all that is required is a screwdriver or if you're unsure a professional installer can fit it for you.
The Yale Keyless lock is designed to be compatible with most UK wooden doors with a 60mm Backset Nightlatch. Like the Conexis it's simple to install on your door and set up, but if you're unsure then the help of a professional installer can make sure your new smart lock is all set up and ready to use.
2. Opens possibilities
A smart door lock can provide you with convenience. Controlled through your smartphone, a smart door lock can give you the ability to lock and unlock your door via your smartphone, give access to select individuals and check who has been in and out of your home.
The most recent addition to Yale's smart door lock range is the Linus Lock. Designed to give you even more control over your front door security, the Linus Lock has capabilities to auto-lock and auto-unlock your front door.
By simply walking up to your front door, the smart lock will unlock and then you're in! When you leave your home, all you need to do is close the door and walk away. The Yale Access app will recognise you've left your house and the auto-lock function will activate and lock your door.
Yale smart door locks, link to popular voice assistants such as Amazon Alexa and Google Assistant, allowing you to control your door lock with your voice for ultimate convenience. They also integrate with other products from the Yale Smart Home range. For example, when you unlock your smart door lock, your Yale Sync Alarm will automatically disarm.
These smart capabilities make it easier to have full control over your front door and full home security system.
3. Provides Security
As front door security continues to be significant to the security of your home, when upgrading your lock to be a smart door lock it's important you feel just as safe and secure.
Smart door locks from Yale are all designed to provide you with a high level of security for your home. In fact, the Yale Conexis L1 Smart lock was the first smart lock to be British Kitemark Approved and has recently become the first approved IoT Kitemarked Smart Lock available on the market.
With the assessment process putting the Conexis L1 Smart Lock under rigorous testing, homeowners can get peace of mind knowing their Yale Security Solution is functional and not vulnerable to security flaws.
The BSI will continue to test the Conexis L1 Smart Lock on a long-term basis, routinely monitoring and assessing security levels and product quality, ensuring that the solutions are up to standard.