Yale helps homeowners to feel safe and 'travel reassured' this summer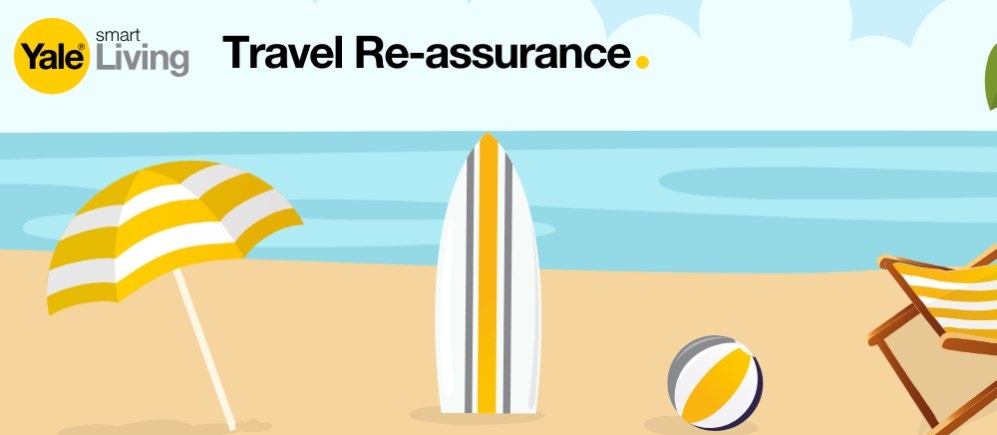 With recent statistics revealing that an estimated 16.2 million homes in the UK will be left empty this summer and therefore at risk of burglary*, the team at Yale are dedicated to helping homeowners keep their homes and belongings safe and secure, allowing them to feel 'travel reassured' and 'stress-free' about the security of their home.
With this in mind, Yale has launched the 'Travel Reassurance' campaign, giving homeowners hints, tips and advice on how they can protect their home and belongings during the busy summer period!
Make your home look lived in
It may seem simple, but making your home look lived in can make a dramatic difference in keeping opportunistic burglars at bay. Something as simple as leaving a car on the driveway, getting friends or family to check in on your home when you're away, and investing in security lighting can be a great deterrent for burglars.
Post piling up is also a major hint to burglars that you may be away from your home. If your friends and family aren't able to pick up your post, it may be worth making the most of the Royal Mail 'Keepsafe' scheme, which is a system that holds onto all your letters and parcels for up to 66 days when you're away, delivering them back to you upon your return.
Keep it smart
With statistics revealing that 40% of Brits say that remembering if they have locked their front door is their biggest concern when they're away**,  it's fair to say that a lot of us do worry about the security of our home whilst we're away on holiday.  
With plenty of smart security gadgets available, being reassured of your home security whilst you're away is easier than ever with smart home alarms, smart door locks and smart CCTV systems which give you the opportunity to check in on your home remotely, offering peace of mind when you need it most. 
Wish you were here
If you're considering a smart home security upgrade this summer, it could be worth investing in a high quality CCTV system. 
Yale's Smart CCTV range gives you the freedom to check up on your home when you're awayfrom anywhere in the world, allowing you to view images of inside your home through the free Yale app, giving you peace of mind when you need it most. This means that you can have the added reassurance that your home is secure from any holiday destination at any time, all through the convenience of a smartphone!
Smart home alarms are also a key visual deterrent for keeping the burglars at bay at this vulnerable time of year. In fact, statistics highlighted that homes with an intruder alarm are 84% less likely to be burgled**, showing just how effective this type of security is in preventing an attack. Yale's new Intruder Alarm range is a perfect solution to protect your home and your shed or outbuildings, as its 200m long reach range provides extensive security and peace of mind. You can also receive phone call alerts to four pre-programmed phone numbers if your system does happen to be triggered, so you're always in control.
Save the 'check in' for the airport
The urge to 'check in' and show off the beautiful scenery across your social media accounts is certainly there when you finally arrive at your holiday destination, but this is a very risky move. The modern-day burglar is very shrewd and will more than likely be stalking the less secure social media accounts to see who's away and out of the house, and checking in online could mean you're their first target. We suggest checking your security settings before posting anything whilst you're away, but to be on the safe side, we'd strongly advise waiting until you get home to post those holiday snaps!
Check out the Yale social channels on Facebook @YaleUK and Twitter @YaleSecurity for more information and for hints and tips about the Travel Reassurance campaign. 
 *Daily Express
 **Locked Home