Yale's Integration With DoorBird Provides New Interoperable Access Solutions for Consumers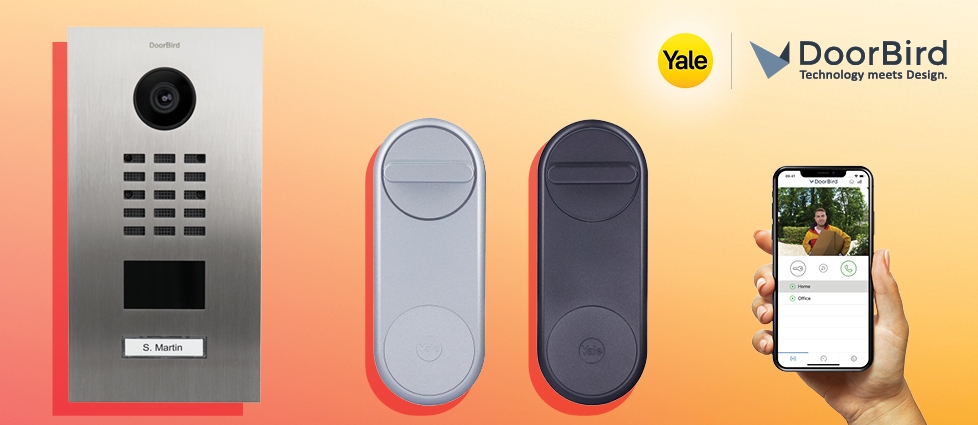 Whether you're tired of missed deliveries and inconvenient pick-up locations, curious to know who stopped by your front door when you were away, or looking for a way to let guests into your home when running late, the Yale Linus® Smart Lock and DoorBird IP Video Door Station are the perfect fit for your front door!
Powered by advanced software and features a sleek, elegant design, the Linus® Smart Lock allows you to easily control access to your home and grant virtual keys to family members, friends, the delivery driver, or trusted tradespeople. The new integration with the Doorbird IP Video Door Station means that you will now also be able to open your door remotely with Linus® via the DoorBird app directly. Your guests are waiting at your door and nobody is home? Don't worry, you can let them in with the Linus® Smart Lock!
Thanks to this new integration of the Linus®Smart Lock and DoorBird IP Video Door Station, you will be able to enjoy these great new benefits:
Know who stopped by, even when you're out: Easily integrated into your own home automation system through the DoorBird app, your DoorBird IP Video Door Station will allow you to monitor your front door, gate, and garage door. What's more, with motion sensors and live in-app notifications when the doorbell is pressed, you'll receive an alert when someone moves into the entrance area of your home.
Never miss a visitor again: With Yale and DoorBird, you'll never miss a visitor again! You'll know if the delivery man or your friends have stopped by throughout the day, and even have the ability to have a two-way conversation with them -no matter where you are in the world. All thanks to the integrated DoorBird camera. Thanks to the integration of Linus® Smart Lock into the DoorBird app, you can easily open your door while away via « DoorBird Connect ». Family or friends have arrived at your door before you get home? You can simply let them in with the Linus® Smart Lock.
No more missed deliveries: The Linus® Smart Lock and DoorBird IP Video Door Station will work together to ensure that missed deliveries due to not being at home, and inconvenient pick-up locations, will become a worry of the past! Simply use your Linus® Smart Lock to grant the delivery man temporary access to your hallway so that he can leave the package inside, rather than in front of your door. Even while working remotely, deliveries need not disrupt your busy schedule at home either. No need to step away from your meeting when you can simply grant the delivery driver temporary access from the convenience of your desk.
As a leading provider of smart home security solutions trusted by millions of people around the world, we're committed to expanding our range of interoperable smart home security solutions and providing integrations with trusted partners to enhance your smart home experience.
To get started, click on the link below to connect your DoorBird Door Station with our Yale Linus® Smart Lock: https://www.doorbird.com/downloads/connect/cnt_yale_en.pdf