---
A Handy Guide To Smart Door Locks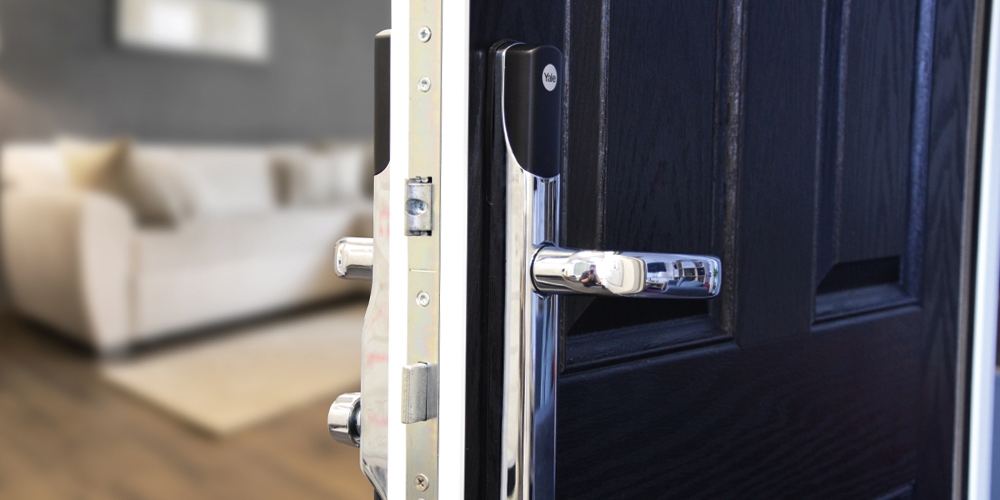 ---
The front door is the main gateway into your home, welcoming family members, friends and visitors who come and go. Instead of arming your humble abode with conventional locks, why not explore the power of a smart door lock? To help you find the perfect lock for your home and lifestyle, we've put together this handy guide.
The stats
Research by the Office for National Statistics (ONS) revealed that 76% of household burglaries in England and Wales occurred when the offender gained access through a door, demonstrating that the front door continues to be a common access point for opportunistic thieves. Tools such as crowbars, lock picks and other prying devices are commonly used to open already weakened locks on doors and windows. With these statistics showing the importance of door security, what better time to upgrade your door with a smart door lock.
What is a smart lock?
A smart door lock is a lock, for your door, that has smart capabilities. It allows for remote access and the ability to monitor your home from anywhere in the world, all through your smartphone. No matter of what type of door you own, it's possible to find a compatible smart lock that will work for you and your home.
How does it work?
Whilst upgrading your locks and installing outdoor security cameras is great way of keeping thieves at bay, it's essential that, should the worst happen, your insurance claim will be accepted.
Homeowners insurance is a form of property insurance that covers losses and damages to an individual's house and assets within the home. Most insurers will clarify this in their terms and conditions, but they will likely expect that your front door security is up to par and that you are using locks that comply to British Standards BS3621. When opting for a higher security cylinder from a trusted home security brand, you may even be rewarded with cheaper home insurance premiums, as you will be less at risk of being burgled. Your insurer will also provide you with a list of requirements i.e. utilising your home alarm system, using external lights etc., which you must follow to ensure your claim will be accepted if you're the unlucky target of an attack.
If you found this article helpful and are looking to increase your front door security, browse our comprehensive range of products today – visit our website.
Make your home connected
With many of us heading back into the office and leaving our homes unoccupied, being able to remotely monitor and control your home through a smartphone is a big plus, which is possible with the Yale range of smart locks: Conexis L1, Linus Lock or Keyless Connected.
Interoperability with other smart devices in your home brings added convenience. Yale smart door locks connect to leading voice assistants, allowing for convenient control over your front door using just your voice. You can also connect your Yale smart lock to other Yale systems: for example, using a Sync Module in your door lock allows it to 'talk' to your Sync Alarm, so it disarms when you unlock your front door.
The Yale Linus Lock uses sensor technology, so you can check if your door is closed securely or see if it has been left ajar, keeping you in the know of what's happening with the security status of your property.
Choosing the right lock for you
Smart locks can have many benefits to your day-to-day life, however, it's important to find the right lock for you and your home. For many homeowners, the kerb appeal of our homes is very important. Whether your home is modern or traditional, there is a large range of smart door lock designs and colour finishes available, so you can be sure your front door will not only be secure but stylish too.
Different locks are available to suit different door types. It's important to know whether your door has a multipoint lock, a standard British Nightlatch or a Euro Cylinder, as this will help to ensure you choose the right lock for your door. When choosing your lock, consider the access points to your home. If you choose to install a Conexis L1 smart lock, we recommend ensuring you have two access points to your home. If you only have one entry point to your home, a Linus Lock is an ideal option, as the Linus allows you to override your smart lock using a key.
Smart security
Style doesn't mean compromising security. All Yale smart locks are designed with security at the forefront. The Conexis L1 Smart Lock is the world's first British Standards Institution (BSI) IOT Kitemarked lock, meaning the smart lock has undergone rigorous testing including quality and durability tests as well as a physical attack. The Linus Lock uses Bluetooth Low Energy technology encryption, as well as AES 128 bit and TLS encryptions, which means you can disable the Yale Access App and all virtual keys at any time.
There are plenty of benefits of upgrading to smart technology. Not only can they provide convenience to your lifestyle and a stylish entrance to your home, they can also help you to step up your home security.
To browse our full range of products, visit the 'Smart Locks' section on our website.
*Requires Module – sold separately.