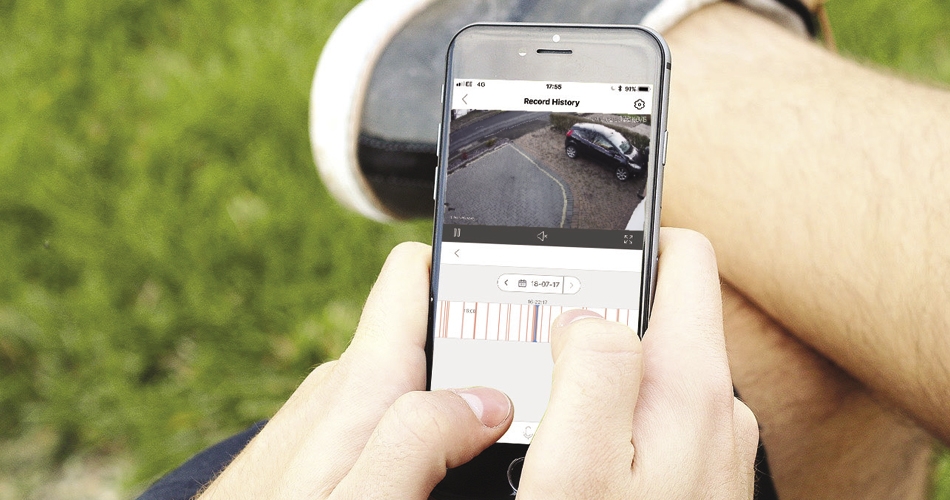 When considering the most effective home security systems for your property and the type of security products you should invest in, CCTV is often at the top the list.
Helping to deter unwanted visitors, provide footage as evidence and keep a check on your property, there are many different benefits to having CCTV.
However, there are also many different CCTV systems available, so it can be difficult to know what option is best for you and your home. To help, the expert team at Yale have come up with some top tips on what to look out for when shopping around and how to find a CCTV system that is right for you.
Positioning is key
When considering a CCTV security system for your home, a good place to start is thinking about what area of your property you specifically like to keep a closer eye on.
If you have land which you want to keep a check on, we recommend you opt for a camera which has a larger range, as this will be better equipped to protect your home throughout the day and night. Using a product such as the Yale 4M CCTV system, you can keep a check on all external areas of your property. With four or more CCTV cameras carefully positioned covering the areas which need to be monitored, you can keep an eye on the entire perimeter of your property.
If it's the front of your home or your front door that you want to focus your attention on, it's important to have a camera which is designed to specifically watch over the entrance to your home. Having a dedicated CCTV camera or security camera positioned next to your front door can be hugely beneficial to help protect your property.
You can even purchase dedicated front door cameras to keep an eye on your entrance space, just like our Front Door Camera, which can help you keep check on your home, without affecting its aesthetic. The camera's security spotlight is also efficient at highlighting who is at the door and helps provide clear footage around the clock.
Get to grips on functionality
When deciding on your security camera system, you need to consider the range of functionalities needed for you to get the most from your camera.
When choosing an outdoor security camera, be sure to check what the IP rating is and if it will be able to withstand the elements. All Yale outdoor cameras are either IP65 or IP67, so you're safe in the knowledge your camera feed will be clear, whatever the weather.
If you have a busy schedule and are always on the go, a smart system can help to make sure you're always aware of what's happening at home. Viewing footage and controlling functionalities can all be done via your smartphone.
It would also be beneficial to look for a security camera which has motion detection functionality, meaning you can always know what's happening at home, from anywhere. When the camera picks up movement, a notification will be sent to you, and you will be able to see what is happening from anywhere via your smartphone.
Another handy functionality to look out for when choosing your CCTV system is two-way talk capabilities. This will let you speak to whoever is on the other side of the camera, whether that's a delivery driver, friend or even the dog walker, making it possible to speak to them through your smartphone whilst also keeping you in control of the security of your home.
Understand the installation
It's important to ensure your CCTV system is installed correctly and in the most effective positions, so when purchasing your CCTV you should also consider the installation process of the system.
Some security cameras are designed to be DIY products and are simple and straightforward to install, such as the Yale All-in-One Camera. This handy security camera is quick and easy to set up and can easily be attached to the outside of your home.
Alternatively, a system which has multiple cameras and is wired can prove more difficult to install, and so a professional installer might be required. When purchasing from a brand like Yale, there is an option to have a professional install the camera, giving you peace of mind that your new CCTV system is correctly set up and in position.
Having a security camera set up can give you peace of mind, but it's important to find the right camera for you. Security cameras are an effective and easily accessibly line of defence for your home security. It's also important to remember that CCTV can be effective on its own, but it's beneficial to use the cameras as part of a full home security system.
And if you're in the market to give your home a full home security update, from 17th - 31st October 2021, you will be able to receive £50 off the Sync Smart Home Alarm 14 Piece Kit as part of our October offers.
Along with the award-winning Sync Smart Home Alarm, this new bundle includes the All In One Camera to monitor your home from your smartphone and a range of PIR Motion Sensors alongside Door and Window Sensors so all areas of your property are covered.
And to discover more about the range of CCTV and smart security products from Yale, please browse our website or visit our social channels.