Britain's perfect night in!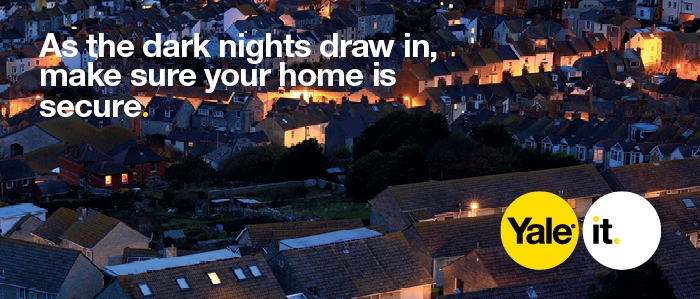 Getting away from work by 5.30pm, unwinding with a cup of tea and some Dairy Milk chocolate and being in tracksuit bottoms by 7.10pm is the onset of the perfect night in, according to new research. The study of 2,000 adults sought to determine the formula for a perfect night in after results showed Brits are opting to hibernate in front of the telly for up to five nights a week after the clocks go back.
Shockingly, more than half of those in a relationship would have the place to themselves rather than the company of their partner if they were to truly enjoy a relaxing night in.
The 'perfect' night in would involve 26 minutes of gossip on the phone followed by an easy dinner on the sofa.
From 8.00pm all calls are ignored to fit in at least two and a half hours of television or film – deemed the right amount for a good night, with Great British Bake Off the most popular, followed by Game of Thrones.
The research, which was commissioned by Yale to mark the launch of National Home Security Month, which runs throughout October has found our ideal evening also sees five websites visited, three articles read online and 10 pages of a book or magazine digested.
Feeling safe and secure in the home and being tucked up in bed by 10.52pm was also seen as essential to the ideal evening in.
Yesterday a spokesman for headline sponsor Yale, said: "As the winter draws closer thoughts turn to staying warm and making the most of cosy evenings in.
"Being able to fully switch off from work and enjoy some real home comforts clearly sets the tone, while a little social media and catch-ups with friends and family are key.
"But the biggest source of relaxation seems to be shutting out the outside world and enjoying great entertainment from the sofa with our favourite food and drinks. It's a small but important thing for people to be able to relax and enjoy their homes, but for many it's not always easy to get time to do it properly."
A quick getaway from work proved crucial to the positive mind set needed to kick off a relaxing night, while changing out of work clothes is the first thing to do when stepping in the door -just three per cent of respondents opt to jump into a onesie, with pyjamas followed by tracksuit bottoms the best fit for most.
Then it's kettle on and a cup of tea deemed the best drink for a perfect night in, trumping both red and white wine and coffee.
A quick check of Facebook and browsing of five favourite sites, followed by three articles online sets the tone for switching off the work worries.
And while not heavy readers, flicking through 10 pages of a magazine or finishing the chapter of the book you're on really ends all thoughts of the day.
Next is a phone call – either to mum or a best friend to catch up on any gossip and 26 minutes was deemed the right length for a quality catch up without eating into the night.
By 7.10pm thoughts turn to getting settled on the sofa and food should be ordered – Chinese takeaway was the most popular, followed by Indian.
A required two and a half hours of screen entertainment follow next with Great British Bake Off or Game of Thrones the preferred choice, and if opting for a film then comedy or action is best.
The ideal snacks to accompany the TV binge are crisps, followed by Dairy Milk chocolate, Pringles and Ben and Jerry's ice cream.
Well rested and relaxed, sleepy Brits wander off to bed by 10.52pm to get a good sleep and be fit and firing for the next day.
At this point eight in ten Brits undertake a routine check of the home to ensure all secure, with 57 per cent doing this every single night before heading off for a sound sleep.
The Yale spokesman added: "We're often led to feel guilty for not being productive or for allowing ourselves to indulge in a treat or two and a quiet night on the sofa.
"But with the dark nights drawing in being able to enjoy our homes with a cosy night in is important in staving off the winter blues.
"A big part of feeling content at home is knowing we are safe and secure and any steps that can be taken to maximise that will always help people to make the most of those long winter nights."
"Statistics show a 20 per cent increase in domestic burglaries during the darker autumn and winter months, with a 160% rise on Halloweenan, as thieves take advantage of the dark noisy night and fancy dress costumes. With this in mind National Home Security Month is designed to raise awareness of the importance of home security as the nights draw in, helping people keep their homes, families and belongings safe."
BRITAIN'S PERFECT NIGHT IN
START: Leave work by 5.30pm
OUTFIT: Change out of clothes- pyjamas or tracksuit bottoms (just 3 per cent onesies)
DRINK: Cup of tea (hot chocolate runner up)
BROWSE: Visit 5 websites. Read three articles online, and 10 pages read of a magazine or book
CHAT: 26 minute phone call – most likely to mum or best friend
SIT: Settled and on the couch by 7.10pm
MEAL: Chinese takeaway (Indian runner up) - eaten on the sofa preferably at the start of a minimum of 2.5 hours of telly or film
TV CHOICE: Bake off, followed by Game of Thrones
MOVIE: Comedy most popular then action
SNACKS: Crisps, dairy milk chocolate, Pringles
BED – things should wind down at 10.52pm
A perfect night of relaxing better WITHOUT the partner – 51% of people in relationships prefer to chill alone and have the place to themselves for the ideal night in.
TOP 10 TV SHOWS FOR A NIGHT IN
Great British Bake Off
Game of Thrones
I'm a Celebrity... Get me out of here!
Sherlock
Britain's Got Talent
Strictly Come Dancing
The X Factor
Coronation Street
EastEnders

Breaking Bad
TOP 9 SNACKS FOR A NIGHT IN
Crisps

Dairy milk chocolate

Pringles

Ben & Jerry's ice cream

Doritos

Nachos

Maltesers

Popcorn

Galaxy chocolate