Be in when you're out Yale launches new range of connected IP Cameras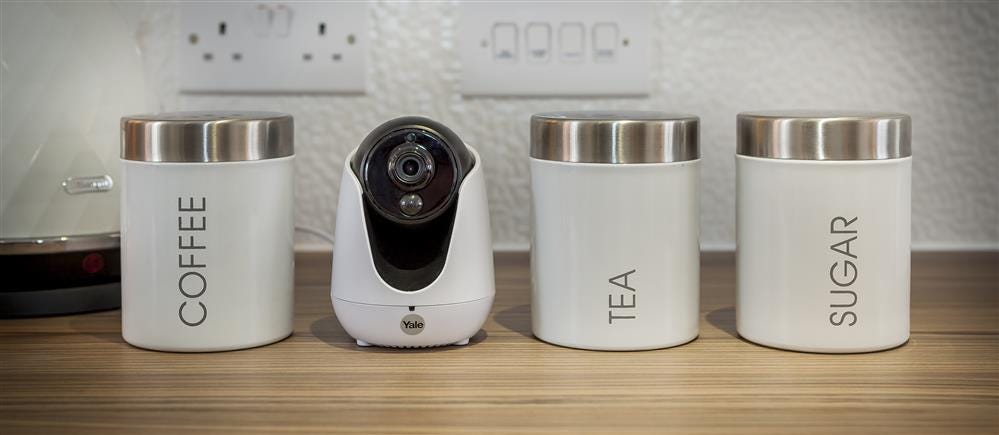 Yale has launched its new range of Home View cameras, allowing you to keep an eye on what matters the most remotely from your smartphone or tablet.
Designed to suit modern lifestyles, the cameras, including the Home View and Home View Pan Tilt & Zoom (PTZ), connect wirelessly to an Internet connection, providing peace of mind for busy homeowners who want to check in on their property at the touch of a button.
Both cameras have an optional motion detection feature that can alert you to movement in the home, as well as a two-way audio feature, enabling you to listen or talk back with a built-in microphone and speaker.
These devices are ideal for anyone that wants to quickly and easily monitor their home. Whether it's to watch over older children when they're home alone or check on your pets throughout the day. The cameras can also be used to keep an eye on home services such as cleaners, babysitters or carers, and in a similar vein, you can install these devices in the homes of elderly parents or relatives, to check on them for added reassurance.
In a recent survey, when asked what security products Brits expect to see in a smart home, 58 per cent of respondents stated CCTV throughout their home, and 59 per cent wanted to control their home security from anywhere in the world using an app.* Yale's new Home View cameras allow you to do just that, with remote control via the Yale Home View app.
The app is compatible with Android and iOS operating systems, and allows you to control and view live video of your home from anywhere at anytime via your Smartphone or Tablet. The Yale Home View cameras also connect wirelessly to a Yale Hybrid DVR as part of your Smart Home CCTV System, allowing you to record video from your Home View Camera direct onto your Yale Hard Drive. This can be given as evidence to police in the unfortunate event of a break-in.
David Herbert, Business Development Director for Yale Smart Living, said: "At Yale we place convenience at the centre of our Smart Living range, and develop devices that make everyday life that little bit easier.
"After conducting research into the state of the UK smart security market, we found that more and more homeowners are demanding remote access and control via a smartphone to view their property. As a result, we developed the new Home View camera range, which helps you put family life first. The cameras are simple to set up and ready to use in minutes, while still ensuring a superior standard of security."
*A survey of 2000 UK adults was carried out for Yale UK by OnePoll, a member of ESOMAR, July 2015