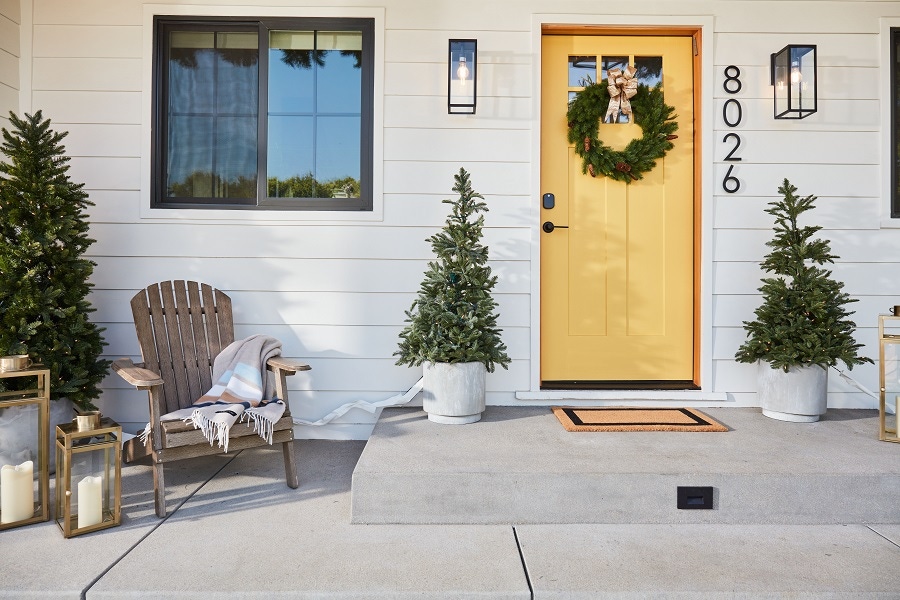 'Sleigh' your Christmas gift giving with top tech treats from Yale
Whether you have an interior-obsessed aunt, tech-savvy best friend or are simply looking for a handy piece of smart home tech to make life just that little bit easier, finding the perfect gift at Christmas can be a struggle.
But when you have the help of the home security experts at Yale, you know you're in good hands, with the team offering up suggestions for the top tech and smart home treats around this festive season to 'sleigh' your present giving.
The perfect ho-ho-home security upgrade
Want to give the gift of one of the best smart tech gadgets around? Well, a smart door lock is the perfect solution and will certainly put you on the top of the Christmas card list for next year.
From being able to keep track who comes and goes from the home from your smartphone, to granting virtual keys to welcome friends and family over the festive season, a smart lock is an easy way to upgrade your door to the 21st century.
And a smart door lock isn't just a great option for tech-enthusiasts. Our range of Smart Door Locks are handy, convenient security gadgets that are also the perfect interior design option for homeowners. Our stylish smart locks are available to work for a variety of door types including the Linus, Keyless Connected and award-winning Conexis L1 Smart Door Lock.
Catch the festivities on camera
Santa has eyes everywhere, but now you can too, by investing in an Indoor Camera from the Yale range.
Looking to gift a friend or family member with a tech gadget that will allow them to keep an eye on their home, family and pets any time of the day or night? Then an Indoor Camera is the perfect affordable solution.
Our range of Indoor Cameras have been designed as a convenient way to check up on what matters most to you via your smartphone, so you can always be 'in the know' over your home security.
From the Indoor WiFi Camera Pan & Tilt, Full HD and the All-In-One Indoor Outdoor Camera, we offer a range of camera options to allow for seamless remote monitoring of the home, so you can give the gift of peace of mind this festive season.
The All-In-One Camera is a great gift option for your friends or family members who are always on the go, with its HD quality, motion detection and two-way talk features. Whether they want to check in on their pets whilst out meeting friends over the holidays, or simply to keep an eye on their home over the festive season, an Indoor Camera is not just for Christmas, it'll be a gift they'll use all year round.
You 'snow' the alarm drill
If you're one for piling up your presents for family and friends under the tree, then you may unwittingly be showing off your festive haul to local thieves operating in the area. And whilst we're out and about enjoying the festivities of the season, what can be there to protect your presents when you're away? Well, that's where the winter season's perfect accessory springs into action - the smart home alarm.
Whether you're looking to give the gift of security for your own home or treat a worthy family member to a present that will be used all year round, our Sync Smart Home Alarm is a perfect option.
Allowing homeowners to remotely monitor their home at any time via a smartphone, a smart home alarm is not only a handy tech gadget, but it also acts as an effective visual deterrent to warn off would-be criminals - the perfect way to stop any nightmares before Christmas.
And to make the Christmas gift giving just that little bit easier on your bank account this festive season, we will also be offering half price installation across our Sync Smart Home Alarm range from 5th to 15th December 2021, stopping those unwanted guests from nabbing your gifts.
Lock up your bike to wrap up your Christmas gift buying
Wondering what to get for the cycling enthusiast? Well, give them a gift they'll use to protect their pride and joy with our Maximum Security Chain and Lock. An ultra-heavy-duty solution to protect bikes at home, this chain and lock will stop any pesky intruders make a speedy getaway with your bicycle, making it the perfect gift this Christmas.
And if your present is for a cyclist who loves to spend their free time exploring, then we'd recommend opting for a gift of a lightweight cable lock, perfect for carrying on a long journey or day out. The Yale Cable Lock has a self-coiling cable and compact design, providing protection from a range of pick and pull attacks, alongside a protective vinyl cable cover to prevent any unwanted scratches.
So, what tech treats or security special deliveries will you be giving away this festive season? And if you're still in need of some more inspiration, discover our range of smart security products by browsing our website or visiting our social channels.
Why not update your Christmas wish-list with our must-have tech gadgets:
Linus Smart Lock - RRP £219.98
Keyless Connected - RRP £109.99
Conexis L1 Smart Door Lock - RRP £199.99
Yale's Sync Smart Home Alarm - Starting from £229.99
All-In-One Indoor/Outdoor Camera - RRP £119.99
Indoor WiFi Camera - Full HD - RRP £44.99
Indoor WiFi Camera - Pan & Tilt - RRP £59.99
Maximum Security Chain and Lock - RRP £70
Cable Lock - RRP £19.99