---
Unlock a world of possibilities and be in full control of your smart home security with Yale and Homey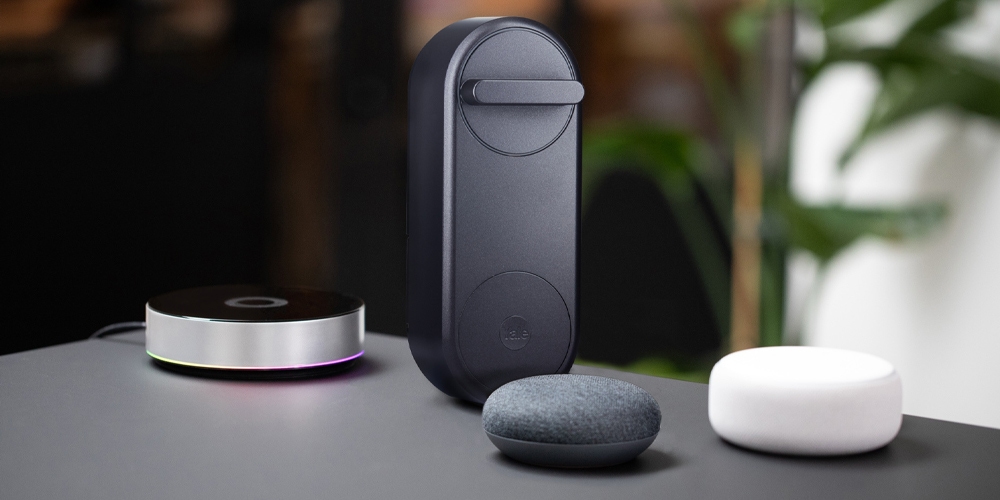 ---
We are excited to announce our new partnership with Homey, the integrated smart home hub powered by versatility. This new integration between Homey and the Linus® Smart Lock will help you to unlock the full potential of your smart home security by further integrating your smart lock into the ecosystem of your smart home devices.
Make Your Home More Secure
Pair your alarm with Linus® using Homey to make it even smarter! With Linus® and Homey, any alarm that supports human sensing technology can now be armed or disarmed based on your presence. Linus® also features an auto-lock function that, when used with the rest of your home security, will give you peace of mind knowing your home is fully protected.
Have Your Devices Work Better Together
It's not just upgrading your locks that can increase your front door security, installing outdoor security cameras is another effective way of protecting your home. Many opportunistic thieves will choose to steer clear of a property that has visible CCTV or security cameras in place, being a particularly effective visual deterrent. Although this may not always stop an attack, in the event that you are a target of a break-in and the offender is identified, the footage could be later used in court as evidence.
If you decide to opt for security cameras, we would recommend choosing cameras with a high quality resolution. The Smart Home HD1080 CCTV kits from Yale offer 1080p High-Definition video quality, in-app control and intelligent detection, along with a 20m night vision which allows you to check-in on your home from anywhere at any time. With the ability of controlling your device from your smartphone, these home security cameras provide the ultimate convenience and peace of mind that your home is secure.
Share Your Home
Managing access to your home has never been easier thanks to Homey and Linus®!If the babysitter or dog walker needs access to your home you can easily share virtual keys with them via the Yale Access app, or invite them in with Homey! Invited guests can control Linus® and any other linked devices directly from Homey's Devices screen. Give you and your guests easy control over your entire smart home.
Click here to learn more about the new Homey integration with the Linus® Smart Lock and unlock endless possibilities for your home security today!