Yale showcases new Smart Living point of sale in B&Q stores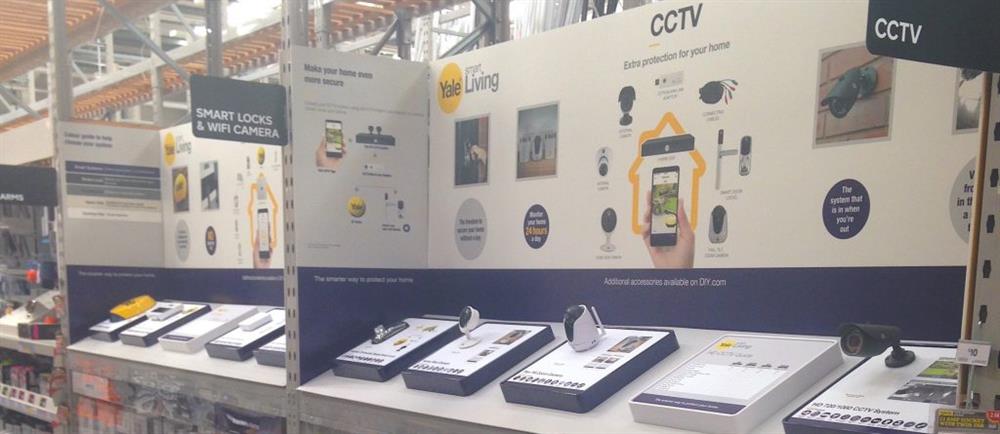 As of last week, the Yale Smart Living new point of sale is now available in selected B&Q stores across the country, including a new promotional video.
The full Smart Living range, includes the Yale's Keyless Connected Smart Lock, Smart Home Alarm range, Home View Cameras and Smart CCTV systems. The range is available as standalone products, as well as a connected Yale Smart Home security system. Yale's Smart Door Locks can even integrate with other Smart Home systems, giving users total freedom to tailor their security requirements.
The Yale Smart Home Alarm range allows users to configure and control their alarm via their smartphone, giving them peace of mind that their home is securely protected. The kit can be extended to feature other Smart Living products, including the PIR Image Camera and even the Keyless Connected Smart Lock for a total home security solution.
The Yale Home View Cameras offer peace of mind by allowing users to view inside their home from their smartphone, so they can keep an eye on their home on the go. The product also has a two-way audio feature that enables users to listen or talk back through a built-in microphone and speaker.
The Yale Smart HD CCTV similarly allows users to remotely view their home through the Yale app on their smartphone or tablet, giving them the opportunity to monitor their property whilst they're away. The weather-resistant CCTV system records high quality footage in colour during the day, and black and white at night, with the addition of built-in night vision infrared LEDs, providing the highest level of protection and security.
The Keyless Connected Smart Lock, named the Best Security Product of the Year at this year's DIY Week Awards, is also available at B&Q. Users have the ability to control their home from anywhere in the world, as well as granting access to their homes for whoever they choose, including carers, cleaners or family members that have forgotten their key or PIN code.
The Keyless Connected Smart Lock is also compatible with Yale and Z-Wave wireless modules that can be linked with a variety of home security systems to create a full home protection system through the addition of other smart home products, including the Yale Smart Home Alarm.
For more information on the Yale Smart Living range and to see the new Yale section of B&Q's website click here, or to find out more about Yale Smart Living visit yalehome.co.uk/smart-living