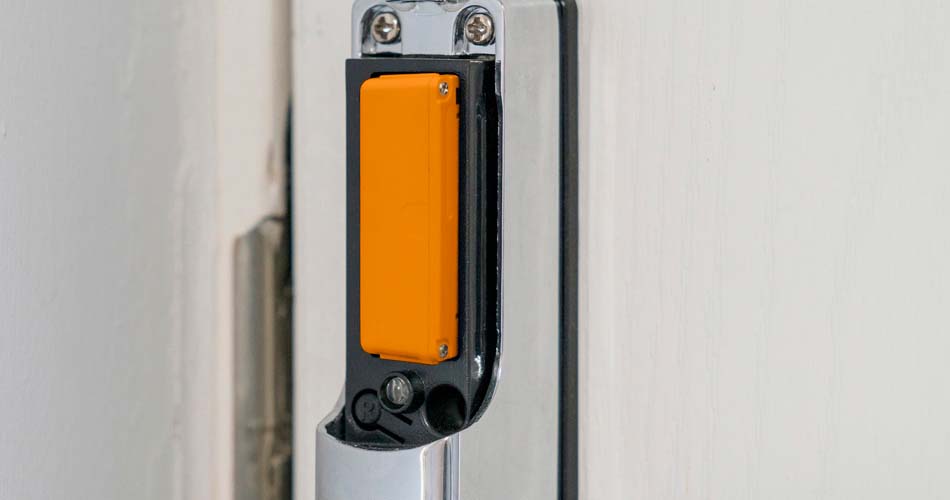 Yale's smart locks just got smarter thanks to the new Yale Access Module
The Yale Access Module and Connect Wi-Fi Bridge Kit allows consumers to do even more with their Yale smart locks.
With connectivity, automation, and increased functionality a high priority for homeowners, Yale has revealed its latest module kit.
The Yale Access Module + Connect Wi-Fi Bridge Kit has been created to provide a range of increased functionalities and integrations. Available for those homeowners who already use either Keyless Connected or Conexis L1 Smart Locks, the kit also includes a Doorsense™ sensor and cover.
Designed to provide additional convenience in everyday life, the Yale Access Module + Connect Wi-Fi Bridge Kit is controllable via the Yale Access app and allows for new remote functionalities and voice assistant activation.
Worried about forgetting to lock your front door before leaving? Doorsense™ technology has been included in the kit to heighten the security of your smart lock. The technology will trigger notifications to highlight whether the door is securely closed. And if something unexpected happens, like it being left ajar, your smartphone will notify you immediately.
The Yale Access Module enables you to use the Yale Access app to perform several functionalities, from locking and unlocking the door, to checking its status and viewing exactly who comes and when thanks to the 24/7 'Access History.'
With the help of the Access Module and Connect Wi-Fi Bridge grouped together in the Yale kit, it's now possible to grant virtual key to guests remotely, via your smartphone. Whether that's for a few weeks, a couple of hours or even five minutes, you can temporarily offer short term access to their homes via the Yale Access app for ultimate control over your door security.
Sharing digital keys with trusted family, friends or service providers means that you can always have full peace of mind, knowing that your spare house key will not get into the wrong hands. It also helps to eliminate the risk of lost or stolen keys.
For additional security, your Yale Access Module uses Bluetooth Low Energy (BLE), as well as an AES and TLS encryption, commonly referred to as bank level security.
And now, the Access Module, when paired with the Connect Wi-Fi Bridge, also offers compatibility with leading voice assistants including Amazon Alexa and Google Assistant. Allowing users to give voice commands such as "Good morning, Alexa", the functionality can perform a number of activities, including checking the lock status, locking and unlocking the door automatically*.
With guest management, activity monitoring, notifications and virtual key creation capabilities, Yale's Access Module + Connect Wi-Fi Bridge Kit offers the ultimate convenience and peace of mind for consumers. You will know that your home is safe and secure, anywhere and at any time, via a single click on your smartphone.
The Access Module and Connect WiFi Bridge can be purchased online at Yalehome.co.uk for £99.98.
To discover the range of smart security products from Yale, browse the website or check out our social channels.
* Voice-activated locking is not available when using the Conexis L1 smart lock.